POPULAR SOUNDWAVE ART PRODUCTS
Click the image for product details, pricing, and sizes. Click DESIGN YOURS to create your personalized art
Art created from your voice or any sound. Since 2012 we've been helping our customers create beautiful, unique personalized art from their voice patterns, voicemails, wedding vows, or even a baby's heartbeat. When we developed our Soundwave Art App we added a new dimension to Sound wave art –  Augmented Reality! Merging the digital and physical world.
Add our app feature to your order and watch your art come to life! Look for our app icon on the product image to know which items are compatible. Upload a video you want your art to play when scanned with our app! Or, we can have your art play the audio file you used to create it. Either way it makes for a unique, beautiful piece of art created from your favorite sound – taking personalized gifts to a new level!
WE CAN MAKE ART & PHOTOS YOU ALREADY OWN PLAYABLE!
Enhance your own
pictures, canvas, prints, paintings, mural
Have a special picture at home and want to enhance it? Add augmented reality to any image or artwork you already own. Upload your photo and a video and we'll activate it with our mobile app so you can play your photo!
Have a great picture of your child's birthday and a funny video of them opening their gifts? What about a picture of your pet? We know you have a lot of fun videos of them! Maybe a wedding photo and some beautiful footage from your wonderful day? Let us add something extra to that photo, a hidden surprise within your image.
Enhance a photo or piece of art by adding augmented reality and watch it come to life!
JEWELRY | MUSIC | PORTRAITS
The products below are NOT playable with our app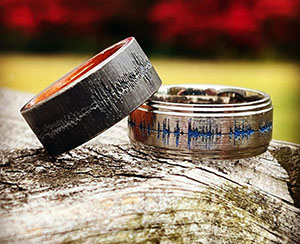 Soundwave Rings: Engrave your wedding vows, voice pattern, or first dance.
Starts at $599.99
Soundwave Pendants: A unique way to show your loved one how much you care.
Starts at $139.99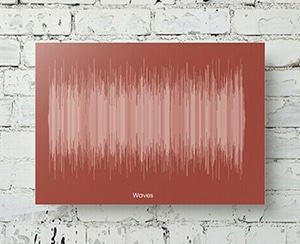 Turn your favorite song into a piece of art. Request a song and choose from popular colors.
Starts at $49.99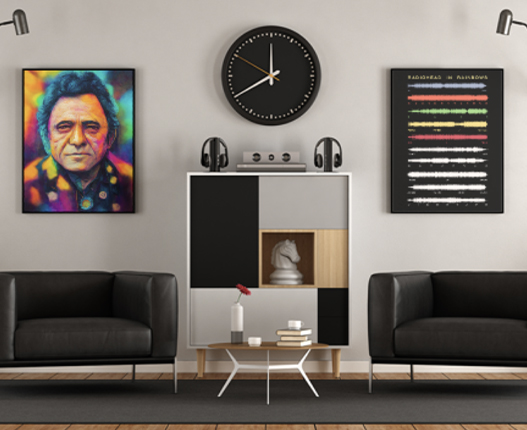 Pre-made music sound wave art. Prints, aluminum, instant downloads & musician portraits.
Starts at $5.99
YOUR VOICE GENERATES A UNIQUE SOUND WAVE PATTERN
We turn that pattern into beautiful, playable sound wave art or custom jewelry
LOOK WHO LOVES SOUNDWAVE ART ™
WHAT IS SOUNDWAVE ART ™ 
Soundwave Art ™ offers the unique experience of converting your voice or any sound into personalized art or jewelry.
Just as a fingerprint is unique, your voice generates its own distinctive pattern, providing you with the opportunity to create a personal and truly unique gift. Our Soundwave Art ™ collection is perfect for that special piece of art to hang on your wall. Soundwave Jewelry™ allows you to create a piece that is unlike any other. Express your creativity and record a sentiment that will last for generations!
SOUNDWAVE ART ™ MOBILE APP
We developed our mobile app to add an entirely new dimension to art. We use augmented reality to play your art through your mobile device!
What exactly does that mean? Let's say you create a piece of art from the voice pattern of a loved one. Does it make a cool and unique piece of art? It sure does! What if you could listen to that piece of art? That's exactly what our app does. Simply open our app and hold it up to your art to hear that sound wave pattern. How about video? Why yes, we can do that too! This is where augmented reality comes in.