Custom sound wave art
We are proud to offer a great selection of quality products making it easy to create the perfect sound wave art gift! We use the best products and have a fantastic team of people to help you create an amazing piece of art and jewelry. Below you will find all the products that we currently offer. If you find something you like click on the design yours button to see what your voice looks like!
Soundwave Art™ Mobile App
Our mobile app can scan and play your artwork! Our app analyzes your unique art, then plays an enhanced generated video directly on top of your art, merging the digital and physical world. When shopping our store look for our app icon to know what products work with our app. Add our app feature during the check out process so you can play your artwork and watch it come to life!
SOUNDWAVE JEWELRY™
Perfect for saying "I Love You", Your "I Do's", wedding vows, or even your baby's heartbeat! We've teamed up with the premier manufacturers in the industry to bring you high quality and beautifully designed jewelry. Using the best technology and the most experienced people, Soundwave Rings®, Pendants, and Bracelets are top quality and super cool! Record a sentiment that will last for generations!
Everyone has their own taste when it comes to artwork but what if you could add your own twist to it? We offer quality, custom products by turning your voice or any sound into art. Soundwave Art™ is an exciting and very unique art form and we are thrilled to offer you these great products. Create your own custom sound wave art.
SOLID WOOD SOUNDWAVE ART
We've partnered with a great family business owned by three sisters to bring you these truly amazing pieces of hand-crafted art. Available in Solid Walnut, Barnwood, or a Layered cutout of Birchwood framed in an Italian Wood Molding.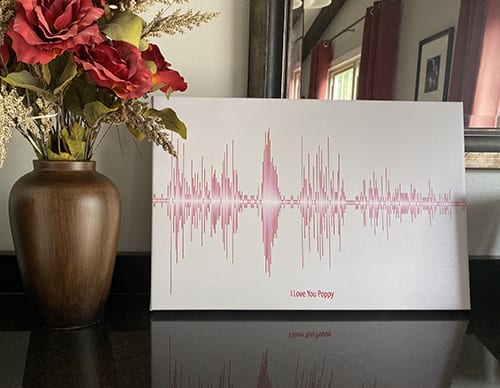 SOUNDWAVE ART CANVAS
Our most popular custom sound wave art product. Expect quality and longevity with our archival inks and heavyweight canvas. With staple-free sides, tightly tucked corners, metal hangers, and bumpers attached to the back, your Gallery Wrap arrives ready to hang. The Gallery Wrap pricing includes satin coating, which provides UV protection.
SOUNDWAVE ART PRINTS
We use the Award-winning KODAK PROFESSIONAL ENDURA Papers which set the gold standard for print quality! We offer prints so that you can have them framed to your liking.
SOUNDWAVE ART ALUMINUM
Made by sandwiching a black, solid plastic core between two aluminum sheets. Your Soundwave is printed and attached to the aluminum. This is the perfect mounting option for our prints making it highly durable and warp-resistant. Aluminum is 1/8″ thick with a white coating on back. Comes with a 3-piece PVC Float Block attached to the back for easy hanging.
SOUNDWAVE ART™ COLOR AND STYLE OPTIONS
With virtually unlimited design options, creating a custom sound wave art is fun and easy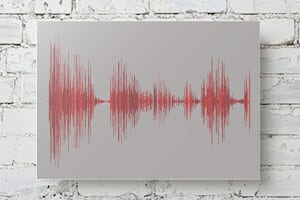 With our specially designed software, not only do you see your voice come alive in front of your eyes… you can even create multicolor Soundwaves. Our multicolor Soundwaves add a unique and really cool element to your design. The multicolor option works best with longer recordings, especially your favorite song!
Our Gradient option helps you create a really cool design! Adding the option to insert 3 colors which span the length of your Soundwave, starting from the outside and working its way to the middle. The Gradient option works great on both short and long recordings.
If you're looking for something a little more abstract this option bursts your Soundwave pattern from the middle out. You have the option to use solid or multicolor when designing your Soundwave Art™ as well as adjusting the thickness and rotation of the pattern.
CUSTOM PHOTO ART – THAT YOU CAN WATCH!
Upload your own photo and have it printed on Aluminum, Metal, or a print.
Upload a video associated with your photo and with the Soundwave Art™ app, you'll be able to scan your artwork and watch it come to life by merging the digital and physical world!  
What is the most popular Soundwave recording?
A baby's heartbeat
What are the first things you buy for a nursery? A crib? Check. A bunch of cute, soft stuffed animals for your future newborn to cuddle and drool all over? Check. These are standard items in any nursery, but nurseries also need a personal, original touch. Something that not only holds sentimental value, but is also a beautiful piece of art. What about the sound of your baby's heartbeat? Even better – add our app feature and listen to that beautiful heartbeat anytime you want.