Gift Ideas – Shop by special occasions
Having a tough time finding the perfect gift? We know how difficult it can be so we put together a few gift ideas based on occasion. Traditional anniversary gifts, weddings, birthdays, Valentine's Day, and memorial gifts. Turning sound into art adds that special touch, or should we say voice? The products showing our app icon are playable with our augmented reality Soundwave Art™ mobile app. Jewelry does not work with our app so there is no way to play it.
Traditional Anniversary Gifts
App enabled so you can play your art
1st Anniversary – Paper
The traditional 1 year anniversary gift is paper. This is a high quality photographic print which is meant for you to frame yourself. Record a special message, choose a background color, upload your favorite photo from your wedding and we'll turn it into a sound wave picture, playable with our Soundwave Art™ mobile app. 
5th Anniversary – Wood
The traditional 5 year anniversary gift is wood. This beautiful piece of artwork is created from a special message. The sound wave pattern that your recording makes is cutout of Birch Wood, mounted onto solid Walnut, framed in an Italian wood molding with a glass front. This is playable with our Soundwave Art™ mobile app.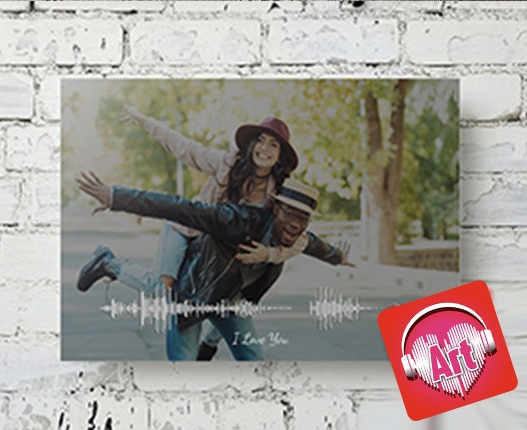 10th Anniversary – Tin/Aluminum
The traditional 10 year anniversary gift is tin or aluminum. Our aluminum is a mounting system which is adhered to the back of our photographic prints. It comes ready to hang. Upload an image and audio file and we'll place the sound wave pattern on top of your photographic. This is playable with our Soundwave Art™ mobile app.
Circle Photo & Soundwave
Mother's Day, Father's Day, Birthday? Upload a family photo and we'll create a unique piece of art from the image along with an audio file which we will turn into a Soundwave. Available with a white or black background.
These are printed using our photographic paper and adhered to a thin sheet of aluminum. They come ready to hang. Add our app feature to make your art playable with our Soundwave Art ™ mobile app!
Split Photo With Soundwave
Turn your favorite wedding photo into two pieces of aluminum wall art. We'll overlay the Soundwave pattern of your wedding vows or you saying the words "I Do" or "I Love You".
Add our app feature to make your art playable. We can program your art to either play your audio recording or even a video from your wedding.
Augmented Reality Puzzle
Make a game out of memorable moments with our augmented reality puzzles! Solve the puzzle, scan it with our app to reaveal the hidden video!
Use a favorite photo to create the puzzle, upload a video associated with your photo to be played when you scan your puzzle!
Memorial Gifts
App enabled so you can play your art
Soundwave Art from a voicemail
This was and is a very special person to us. We recently lost her and have created many special pieces of art from her voice. I don't know about you but I save so many voicemails from loved ones. This is one of the last photos of her so we took the image and a voicmail she left us, placed the Soundwave pattern on top of the image to create a memorial piece of art that we can scan and listen to anytime we wish.
This is available as a photographic print (meant for you to frame) or our Aluminum (comes ready to hang).
For your furry friend
App enabled so you can play your art
Pet photo with Soundwave pattern of those oh so funny noises they make
How many photos and videos do you have of your furry friend? If you're anything like us it's a bunch! What a great way to celebrate the unconditional love your fur baby gives you every day. Upload your favorite picture of your pet as well as an audio file of them or better yet, a video! We'll extract the audio to create the sound wave pattern and overlay it on  your image. You'll be able to scan and play your finished product with the Soundwave Art ™ app and watch it come to life!
Gifts for Your Partner
Not app compatible
Gifts For Her
Record a special message for the lady in your life and have your voice pattern engraved on to a pendant. This will not work with our app but it does make for a beautiful, unique gift. Sterling Silver, 14k White Gold, 14k Yellow Gold.
Gifts for Him
A piece of walnut engraved with your voice pattern makes a great gift for the man in your life. We offer shelf displays and larger pieces that are ready to hang on the wall. Available in 4″ x 9″, 8″ x 18″, and 12″ x 26″. All are 1″ thick.
Wedding Rings
Looking for something different when it comes to your wedding ring? Record your vows or a secret message between the two of you. Many styles and colors available. Choose between Titanium, Chrome, Zirconium, and White Gold.
These are just a few gift ideas to help you get started. Whether it be a birthday, Mother's Day, Father's Day, Valentine's Day or just because, turning your voice or any sound into a unique, personalized gift is a great way to show your loved one how much you care. If you really want to impress them make sure you choose a product with our app icon so you can make your gift playable!