How to create sound wave art
Join the fast growing industry of Sound Wave Art
Start your own business or enhance your artwork or photography with Augmented Reality
Join the Soundwave Art™ Partner Program
How to create sound wave art. We've been in the business since the beginning and lead the industry with our specially designed software and mobile app. We're the only company with the ability to play Soundwave Art using Augmented Reality. Our Soundwave Art™ mobile app adds a new diminsion to Soundwave Artwork by combining the physical and digital world! It's an expirence that you and your customers will never forget!
By becoming an official Soundwave Art™ partner you'll have the ability to use our specially designed software to create art for your customers or gain access to our Augmented Reality mobile app to add augmented reality to your products.
Starting Your Own Business
Soundwave Art™ Design Software And Augmented Reality
Soundwave Art™ Design Software
We can show you how to create sound wave art by using our software. The first option we offer is for those that wish to start their own business selling Soundwave Art. With our design software and mobile app you'll be ahead of the game right out of the gate!
These days you can easily build your own website with companies such as Wix or Shopify. Or, start your own Etsy store and reach millions of potential customers in a matter of minutes. There are many options out there including selling on social media such as Facebook and Instagram. You can even work with print on demand companies to print and ship your products. All great options to start reaching potential customers and begin the amazing journey of building your own business.
Use our app to enhance your art!
Even though we can show you how to create sound wave art you don't need to in order to use our app. Our app doesn't just work on Soundwaves, are you a photographer? Painter? Do you create murals? Our app was built to do so much more!
Scan 'Forest' by Julie Gratz with our app to see an example of what else our app can do!
If you're already a Soundwave Artist you don't need to use our design software. You can use our mobile app to enhance your products and offer your customers the ability to play their art using augmented reality.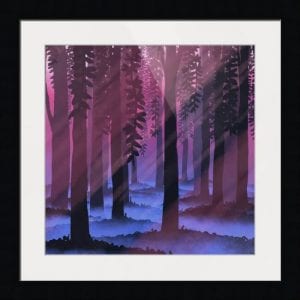 How to create sound wave art once you're a partner
You'll gain access to unbranded videos showing how our app works, we can even create one with your own logo! You'll also have access to images including high-resolution app icon images and an official Soundwave Art™ Partner image to place on your website or to use on your social media accounts.
We will also provide pre-designed options so you can easily show your customers the most popular colors to choose from. Our software has these designs built-in so you can quickly design the art simply by uploading your customers audio file and selecting the color option they want. We'll create the final design and send it to you so you can print it. We even have options to use us as your on-demand printer.
If you already create Soundwave Art and just want to enhance your product you can use our app as an add-on feature for your customers. Our app feature is available in 5 or 10-year activations which means you can generate recurring revenue for your business.
Become A Soundwave Art™ Partner Now!
We'll show you how to create sound wave art
Free to join, no monthly fee, only pay for the art you create using our software or using our app feature
You can be selling in less than 48 hours