How to create sound wave art
Join the fast growing industry of Sound Wave Art
Start your own business or enhance your artwork or photography business with Augmented Reality
FREE TO JOIN, NO MONTHLY FEE, ONLY PAY WHEN YOU ACTIVATE AN IMAGE
Why the Soundwave Art™ Partner Program
We've been creating sound wave art since 2012 and lead the industry with our augmented reality mobile app. We're the only company with the ability to play Soundwave Art using Augmented Reality. No need for those ugly QR codes, the art itself is scannable. Our Soundwave Art™ mobile app adds a new diminsion to Soundwave Artwork by combining the physical and digital world! It's an expirence that you and your customers will never forget!
By becoming an official Soundwave Art™ partner you'll be able to offer your customers unique art created from sound as well as gain access to our mobile app. Our app is capable of playing more than just sound waves! 👇
Are you an artist or photographer?
Use our app to enhance your art!
Are you a Digital Artist? Painter? Do you create murals? Our app was built to do so much more!
Record yourself creating a piece of art using time-lapse, we'll program it to play your time-laps so your customers can see the art being created. Maybe record a message describing your work so when it's scanned they can learn more about the piece.
Scan 'Forest' by Julie Gratz (Animator, and Artist) with our app to see an example of what else our app can do!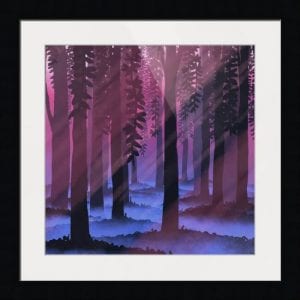 Add augmented reality to your photography business
Scan these photos with our Soundwave Art™ app and watch them come to life
Become a partner and enhance the great work you already do by offering your customers an augmented reality experience.
Already create sound wave art?
If you're already a sound wave artist you can use our mobile app to enhance your products and offer your customers the ability to play their art. Do you currently use QR codes so your customers can play their art? Our app takes away the need for QR codes, since we created Soundwave Art™ we never wanted to ask our customers to place a QR code on top of their art, we just feel it takes away from their design.  With our technology the Soundwave itself is scannable and has the ability to play video using augmented reality. 
How to create sound wave art once you're a partner
You'll gain access to unbranded videos showing how our app works. You'll also have access to images including popular pre-designed color options, high-resolution app icon images and an official Soundwave Art™ Partner badge to place on your website or to use on your social media accounts.
We will create a portal where you will create your customer's design, we will program it to work with our app and send it back to you so you can have it printed. You'll simply upload your customer's audio file and select the color option they want as well as submit a message to be printed under the pattern should they want one. We'll create the final design and send it to you within 14 hours, usually much quicker depending on the time of day you submit the design.
If you already create Soundwave Art and just want to enhance your product you can use our app as an add-on feature for your customers. Our app feature is available in 5 or 10-year activations which means you can generate recurring revenue for your business.
Become A Soundwave Art™ Partner Now!
Free to join, no monthly fee, only pay us when you activate an image with our app