ADD AUGMENTED REALITY TO VIRTUALLY ANY IMAGE
AUGMENTED REALITY SOUNDWAVES | PHOTOS | MURALS | BUSINESS CARDS | LOGOS | PAINTINGS
Enhance your Soundwave Art
™

experience!

Create your own augmented reality art. The Soundwave Art ™ App will bring your Soundwaves, artwork, paintings, even photos to life.

Our app analyzes your unique art and creates a model based on shapes, lines, proportions, and colors. It then matches that model against the Soundwaves in our database. When it matches your artwork with the file used to create it, the magic happens by overlaying an enhanced generated video on top of your artwork, using augmented reality to merge the digital and physical world. Just add our app feature to your order when selecting your product options. Look for our app icon to know what products are compatible.
Our Soundwave Art app works with these custom products: Canvas, Aluminum, Prints, Layered Wood. Keep reading to see what else you can do with our app or check out Augmented Reality for business, artists & musicians, or photographers.
The recording for your Soundwave image can be as long as you want but for use with our app the audio/video has a limit of 3 minutes. The app can play either your audio file you used to create your artwork or a personal video of your choosing. The audio/video file for the app can be up to 3 minutes in length and a max size of 200 MB, the shorter the video the quicker it will load. The sounds of your life turned into playable art.
ARE YOU AN ARTIST?
Animation, Time-Lapse, Painter, Muralist…
Add a new dimension to your art
Ever think about becoming an Augmented Reality artist? With the Soundwave Art ™ App you can! There are some amazing things happening with art these days. Add a new dimension to yours with our mobile app.
Create a time-lapse video of you creating your art, maybe use animation, how about recording a special message to the person that purchases your art? See what the artist on the right did with her piece. Scan it with our app!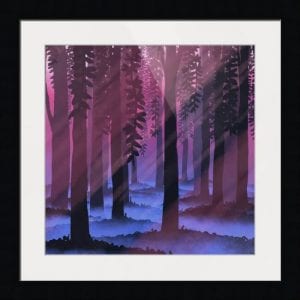 OWN A BUSINESS?
Real Estate, Album Artwork, Recording Studios, Car Dealership, Retail, E-commerce
One image, endless marketing
One piece of marketing material can turn into endless opportunities. Think about your logo, you use it everywhere – your website, business cards, magazines, flyers, T-shirts. Now think about this – when scanned with the Soundwave Art™ mobile app your logo comes alive with your promotional video, call to action buttons with click to call and link to your website. The best part – you can change your video anytime!!!
Augmented Reality Marketing
Create a promotional video that people can watch simply by scanning your marketing material with the Soundwave Art app. Use it to show off your work, create a commercial, special promotions, show off the properties you have listed, anything you can think of can be synced to any image. There is no limit to how many times it can be scanned and better yet, you can swap out your video anytime you want, making your image an endless marketing opportunity. Link to your website, Facebook page, email or phone directly from the video.
FOR PERSONAL USE
Turn your favorite photo into a living memory
Scan these images and watch them come to life