THE SOUNDS OF YOUR LIFE TURNED INTO ART & JEWELRY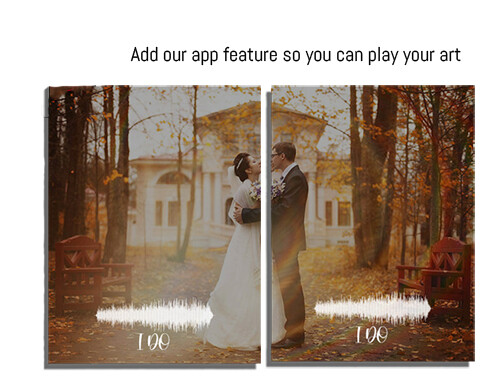 Split Photo with Soundwave – Aluminum
03613
Product Details
This will be two pieces of art created from one photo
Instructions:
Upload 1 image (we will split it into two pieces of art)
Upload 1 or 2 audio files and we will overlay the sound wave pattern on top of each piece.

If you upload two files label them so we know which audio goes with what side of your image. Example: left-audio.mp3, right-audio.mp3. The same goes if you upload video files to be played with our app. Label the files accordingly.

Choose if you want to make your art playable. Your art can either play the audio files you upload or you can upload one or two videos if you want your art to play a video instead. If you don't add this option you will not be able to play your art.
If you want a message printed under your Soundwave pattern type both messages in the provided boxes.
The orientation of your photo will determine the orientation of the final product. You'll receive a proof for approval before we begin production. You'll receive this within 14 hours of placing your order. Please keep an eye on your spam folder.

ALUMINUM: Made by sandwiching a black, solid plastic core between two aluminum sheets, aluminum is a highly durable, warp-resistant mounting. Superb for large print sizes, MaxMetal is 1/8″ thick with a white coating on back. Comes with a 3-piece PVC Float Block attached to the back for easy hanging.
---
Soundwave Mobile App:
Add our app feature so you can play your art. Choose between 5 or 10-year activation. You can renew once it expires.
*Once you approve the final design production & shipping times average 6 – 10 business days
Save this product for later