THE SOUNDS OF YOUR LIFE TURNED INTO ART & JEWELRY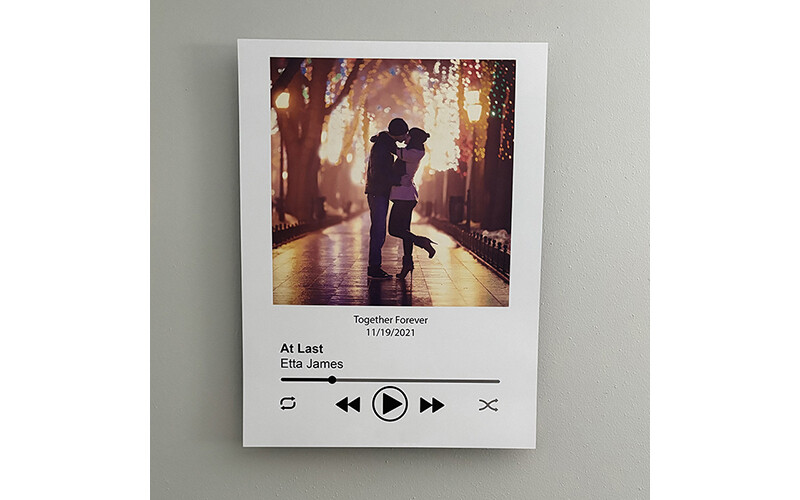 Personalized Album Art – Aluminum
04402
Product Details
Personalized "album" art
Create a special gift with your favorite photo and favorite song*
Add our app feature so you can play your photo. (5-year activation or 10-year activation available, can be renewed)

Access the song using the Spotify app by scanning the code at the bottom of the print. (optional and only available if the song is on Spotify)
Aluminum:
Made by sandwiching a black, solid plastic core between two thin aluminum sheets. Printed using our high-quality photographic print which is adhered to the aluminum. The aluminum does not show through, it is a mounting system that offers a sleek design. This is the perfect mounting option for our prints making it highly durable and warp-resistant. Aluminum is 1/8″ thick with a white coating on the back. Comes with a 3-piece PVC Float Block attached to the back for easy hanging.
Click here to see how our Soundwave Art app works

Download our app on iOS or Android > Scan your photo at the top of the print > the video you upload here will play by overlaying it on top of your photo through your mobile device.
Click here to see how the Spotify app works

Open the Spotify app > Click search > Click the camera icon > Scan the Spotify code at the bottom of the print. This will open the song within the Spotify app.
* The play bar at the bottom of the print is not functional, however, the art piece can be played by using our Soundwave Art app (play a personal video) or the Spotify app (open the song in Spotify) should you choose to add either or both of those options.
Save this product for later