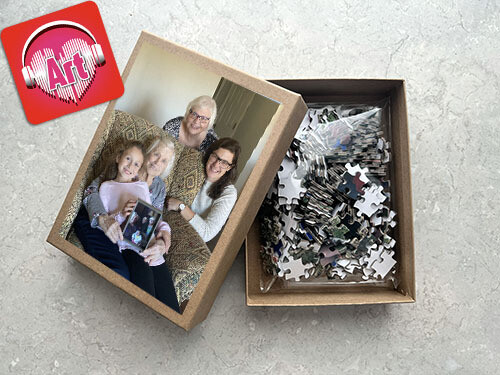 Augmented Reality Puzzle
03625
Product Details
Solve the puzzle reveal the hidden video!
Make a game out of memorable moments with our augmented reality puzzles! Durable and long-lasting dye-sublimated print on coated 3.5mm thick masonite board.
Comes as a 10″ x 14″ puzzle with either 60 or 252 pieces.

The orientation of your photo determines the orientation of the puzzle. For best results, the video that you want to be played when scanned with our Soundwave Art app should be in the same direction as your photo. Example (if your photo is tall then so should your video. If your photo is wider than it is tall then your video should be in widescreen).
You must own the rights to the image and video that will be played. The max length of your video should be no more than 3 minutes long and 200MB or less.
*ONLY AVAILABLE IN THE USA
Download our app
---
Save this product for later